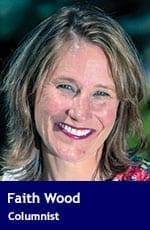 My eyes have been glued to the television watching Canada's Olympic hopefuls put their hearts, bodies and minds on the line as they chase a gold medal.
Afterwards, when interviewed, these athletes articulate how long they've dreamed of this moment. They talk of the hard work and perseverance that have culminated in this day, this chance.
Have you ever had that kind of focused quest? To know exactly what you want to achieve from your efforts in one capacity or another?
It's very brave to lay claim to a goal. Especially now, when it seems so many people stand against something rather than for something.
When you claim a goal, you name it and activate a community around it.
What if you could design a life that inspired you to wake up early, excited about the day ahead and delighted to be doing what you're doing? Even if you're sometimes a little nervous and scared? Or sore? Or the weather is bad?
This might seem a bit too altruistic for you but if we don't know what we want for ourselves, then we're doomed to live a life of someone else's choosing. It means you simply resign to muddle along as best you can.
Going after what you want most out of life isn't a luxury that can wait until you've taken care of all the 'serious' business of life. It's a necessity. And it's never too late to go get it.
What you want is what you need. Your dearest wish comes straight from your core, loaded with vital information about who you are and who you can become. You have to cherish it. You have to respect it. Above all, you have a right to dream about it.
No excuses about being born to the wrong family, being marginalized or never making the right connections. If you want something bad enough, you have to dig in and go for it – all the good and bad!
An idea about what you want is just like a seed.
When a seed is given good soil and plenty of water and sun, it doesn't have to try to unfold. It doesn't need to wait for self-confidence, self-discipline or perseverance. It just unfolds – it can't help it.
If a seed must grow with a rock on top of it, in deep shade or without enough water, it won't unfold into a healthy, full-sized plant. It will try because the drive to become what you're meant to be is incredibly powerful. But at best it will be pale, undersized, drooping.
It may have been so long since you thought about what you actually want that the question makes you shudder. Perhaps you filed your dreams away while you took care of your obligations. Now you wouldn't even know where to start looking for a dream.
So start by considering this question: What do you love?
Those Olympic hopefuls all talk about loving their sport, loving what they do. That love gets them to show up early and stay late, to work harder and push themselves beyond setbacks, injuries and discouragements.
So what do you love? Perhaps it's your work, a hobby, a sport or a pastime. Perhaps it's something you've always loved reading about, a subject you wish you'd studied in school, or just something that gives off a special whiff of fascination whenever it goes by, even though you might know very little about it.
These elements of who you are might be hiding in plain sight. They need to be gathered and carefully examined before you can know how to design a life that truly fits you, a life that will make you feel like jumping out of bed in the morning to meet the world, a little scared at times but fully alive.
If you're low on energy, it may not be because you need vitamins or have low blood sugar. It may be because you haven't found your purpose in life. You'll recognize your path when you come upon it because you'll suddenly have all the energy and
stamina you'll ever need.
Part of the secret of all genuinely successful people is that they've found their paths. They also happen to have some very special skills for making their visions come to life.
Now that you know what you love to do, what do you really want?
Troy Media columnist Faith Wood is a novelist and professional speaker who focuses on helping groups and individuals navigate conflict, shift perceptions and improve communications. 
---

The views, opinions and positions expressed by columnists and contributors are the author's alone. They do not inherently or expressly reflect the views, opinions and/or positions of our publication.