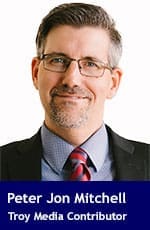 Dating apps abound – and the new Facebook Dating is getting into the game in Canada – but all the technology in the world hasn't changed a significant social trend: Young adults are the forefront of dwindling and delayed marriage in Canada.
Even increasing common-law relationships haven't picked up the slack. Young Canadian adults are more likely to live without a significant other than at any time in the last 20 years. They're "living la vida lonely."
As I wrote in a new report for think-tank Cardus, almost 60 percent of Canadians between the ages of 20 and 34 are neither married nor in a common-law relationship. That's up from less than 53 percent in the same situation in 1996, when Friends was still in its second season and Seinfeld was prime-time viewing.
In part, all this is because young adults are putting off long-term, committed relationships, including marriage. Zoom in to look at Canadians in early 30s and you'll see they remain more likely to be living in some kind of partnership. About 44 percent report being married and 22 percent live common-law. Yet even among those aged 30 to 34, the portion of Canadians living alone (or with parents, à la George Costanza) has been inching upward as marriage declines.
This isn't totally surprising or alarming. It's a busy life, frankly. Young adults increasingly need to pursue post-secondary training and education to compete in the job market. Many young adults would prefer to establish themselves financially before considering a serious, committed relationship. Student debt, steep housing prices and other costs associated with establishing an independent home may be delaying or dissuading young adults.
A 2015 Abacus survey found that about 60 percent of young adult respondents agreed that they had delayed "major life events like marriage and buying a home, and having children because of financial pressures."
Still, young adults have not yet given up on marriage. No generation speaks with a single voice, but a 2018 Angus Reid Institute poll surveyed unmarried 18 to 34 year olds and found that 54 percent want to get married someday. Respondents were asked about the reasons why they weren't married. Among those 25 to 34 (prime marrying age), 40 percent indicated that a major reason was that they don't feel financially stable. About 49 percent of respondents said they simply hadn't found the right person. Only 19 percent said that they simply weren't ready to settle down.
Again, the reasons for young adults' choices vary. There are often good reasons to delay marriage – or not marry at all. But there is also a cultural shift at work. A compilation of survey data on the attitudes of Canadian young adults toward marriage suggests that while some have no use for matrimony, many view marriage as nice, but not necessary. That attitude extends to middle age, with census data revealing a downward trend in marriage in that age group as well.
Canadians have forgotten what marriage is and why it matters.
So it's worth reminding young adults that marriage is the most stable form of family. It's good for kids and adults. Children raised by their married parents do better in school. Married parents are more likely to share finances.
And those in a good marriage have a 20 percent increase in cancer survival rates, improved mental health, and reduced chances of having a heart attack compared to those who are single, cohabiting, divorced, separated or widowed.
Marriage is, and should remain, a choice. But it's important to rebuild our understand of marriage as a social institution.
And we need to acknowledge the multifaceted, interrelated factors that have so complicated life for young adults that they effectively default to "living la vida lonely."
Peter Jon Mitchell is a senior researcher at think-tank Cardus.
---

The views, opinions and positions expressed by columnists and contributors are the author's alone. They do not inherently or expressly reflect the views, opinions and/or positions of our publication.