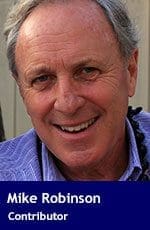 If you're middle aged or better and have a sense of life before the Internet, information technology and all of the associated foofaraw, you may also remember the value of polite speech.
It was extremely rare in my youth to witness profanity first-hand in what might still be called polite society. That included family relations, most school and academic interactions, the world of commerce, and even what passed for political argument.
People obviously held different opinions, but they largely debated with humour, factual counter-examples, tenacity and personal rigour. Silence was also an option.
I was counselled in these matters as a young boy by my paternal grandfather, Capt. Basil Oswin Robinson, or Cappie to his friends. He was the headmaster of the junior school at St. George's School for Boys in Vancouver, and the very model of a retired First World War British Army officer (Royal Sussex Regiment).
He lost the vision in his left eye to a piece of hot shrapnel in the Battle of Passchendaele and very much embodied what he famously used to call, "Playing the clean potato." This term basically referred to behaviour appropriate to polite society.
In over 25 years of shared family life, I never heard him swear beyond "My God!" or "Steady on!" When he was very angry, you knew it from his tone of voice and, in certain cases, from his letter writing.
Cappie expressed his most pressing criticisms in letters to the editor of the Vancouver Sun and Province. They were never more than a page, frequently used Shakespearean and Kipling-esque quotes, and always came to the point.
He wrote about shoddy public service, inappropriate public displays of rudeness and what he deemed to be odd political decisions. He considered it a strategic victory when his letters were published.
Imagine my consternation then, when at age 18 I arrived at Juskatla in remote Haida Gwaii and began working life in a 200-man (there were pointedly no women) logging camp. My workmates were all loggers and we were led by the woods foreman, whom I'll call Ed.
On my first day at work as a rookie chokerman, his welcoming comment to me as I climbed aboard the 'crummy' (crew bus) was, "I'll be watching you, you lazy little f—er. And if you don't pull your weight, I'll send you down the f—ing road to Vancouver so fast you won't f—ing know what hit you!"
Needless to say, I worked hard that day in the pouring rain, and kept my eyes open and my mouth shut.
As my logging career developed that summer, Ed toned down the vulgarity in proportion to my work ethic.
One day, a loose wire on a cable ripped my pant leg right off. I was shaken, standing in a muddy landing with one bleeding bare leg and a crew of laughing workmates.
Ed stopped his pickup, walked up to me, sized up the situation and loudly said, "I'll take you back to camp and you can take the rest of the afternoon off. You do more in a morning than these fellows do in a day."
I'm thinking through these situations anew because over the past few months I've noticed an abnormal amount of profane online commentary, from men and women, on the climate crisis, Greta Thunberg, the Alberta oil patch versus the rest of Canada, and various progressive provincial and federal politicians.
The mean-spirited, ascientific, and ad hominem level of this online critique would disgust my grandfather and even give my old logging foreman Ed cause for alarm.
When I think about what forces in society have given licence to this online profanity, I think immediately of Donald Trump and his absurd, puerile rhetoric. I don't regard him as an original source but his behaviour gives licence to idiocy.
The vicious and vexatious opinions of the cyber world stem more from the faceless psychology of online participation. Most sites feature no apparent editing for crassness; the commenter never meets an editor; and vulgarity has become an accepted norm.
And for some reason, more and more of our public discourse is following suit.
I counsel a firm "Steady on" at this point.
Mike Robinson has been CEO of three Canadian NGOs: the Arctic Institute of North America, the Glenbow Museum and the Bill Reid Gallery. Mike has chaired the national boards of Friends of the Earth, the David Suzuki Foundation, and the Canadian Parks and Wilderness Society. In 2004, he became a Member of the Order of Canada.
---

The views, opinions and positions expressed by columnists and contributors are the author's alone. They do not inherently or expressly reflect the views, opinions and/or positions of our publication.