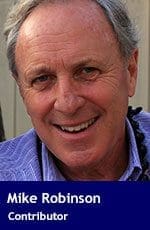 One day in 2004, Doug Firby, then the editorial page editor of the Calgary Herald and now President of Troy Media, took me to lunch. I was the CEO of the Glenbow Museum and I had no idea what we were going to discuss.
It turned out that he invited me to write occasional "op-eds" for the paper, on culture and politics in Calgary.
God knows what motivated him but the idea had immediate appeal, tinged with some degree of fear. Running the Glenbow, in a way, was a cultural and political act. We programmed bold, thematic exhibitions for the Alberta public, and covered big chunks of wall with text panels that said what we thought, didn't we?
Before our lunch was finished, I declared I was ready to write for the Herald. Doug smiled.
It's 15 years later and for almost that entire time I've written one 750-word opinion piece per week, 50 weeks of the year. That's 562,500 words.
The process morphed slightly when Doug left the Herald several years later and helped form Troy Media, a nationally-recognized editorial content provider. Really only the medium changed when I moved there, as my output continued unabated.
The big difference was that my op-eds now occasionally appeared in newspapers like the Victoria Times Colonist, the Vancouver Sun and Province, the Edmonton Journal and the Winnipeg Free Press, along with countless smaller community papers. My pieces also appear online.
When I think back over the op-eds contributed, and the opinions rendered, I'm struck by the fact that I'm guided less by my editors and even readers, and hardly at all by what passes for social media commentary.
Once Doug sent me an email about a piece that was filled with family trivia, basically saying it was "extremely boring." I pulled it and resubmitted a political piece on Stephen Harper, who was driving me nuts that week (something that became a regular occurrence).
Pretty much all of the time I just wrote what I wanted to say. But there were, and are, certain rules.
I'd say all of them have one basic source: my grandfather, Capt. B.O. Robinson. Grandad, born in Falmouth, Cornwall, in 1887, was a junior school teacher. He began his career in his 40s after barely surviving the First World War battle of Passchendaele with the loss of an eye.
He married his London Hospital nurse Nancy Graham and they moved to Canada to began their family life in Burnaby, B.C.
He had what we'd call high school education today but adhered to a rigour of old British values that never lapsed. He was notably a person of his word. I never heard him use profanity. The worst he might utter was a loud, "Damn."
He was chivalrous towards women. He had no patience for shirking work or giving less than your best effort. He loved his new country, and made a lifelong study of British Columbia's flora and fauna.
All of his values heavily imbued his teaching of Scouting in Vancouver's downtown Eastside, starting in the Depression years of the 1930s. It was about this time that he started to write letters to the editor of the Vancouver Sun and Province.
As a young boy, I was soon aware that Grandad wrote his missives chiefly when something egregious happened in the realms of civil society or public service. For example, my grandfather could not afford a car until his mid-60s and therefore took the bus everywhere. He was a stickler for schedules. The 7 a.m. bus should  arrive at 7 a.m. When it didn't, when the bus driver was less than courteous, when fares went up for no properly declared reason, he wrote a letter to the editor.
His letters were factual, informed by personal observation, grammatically perfect, summarized the key issues and were conclusive. His opinion always informed the conclusion. He always signed his full name, including his military rank and home address. Writing them was akin to civic duty.
I learned directly from him at an early age that one stood up for what you believed in. One also did not shirk from criticizing those in positions of power. But one's criticisms were less driven by any sense of party loyalty than by the obligations of duty to the citizens.
Therefore, Dr. Gordon Shrum, the 1970s head of BC Hydro, had better ensure the buses ran on time.
My op-eds follow the same principles. Them's the rules.
Troy Media columnist Mike Robinson has been CEO of three Canadian NGOs: the Arctic Institute of North America, the Glenbow Museum and the Bill Reid Gallery.
---

The views, opinions and positions expressed by columnists and contributors are the author's alone. They do not inherently or expressly reflect the views, opinions and/or positions of our publication.