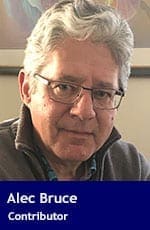 Now that Canada's most famously libertarian think-tank has merged with the Atlantic provinces' premier government-thrashing mouthpiece, does their union augur a future for exemplary new standards of public policy along the East Coast?
After all, both the Fraser Institute and the Atlantic Institute of Market Studies have, over the years, made many of their major bones decrying the evils of government spending along the East Coast.
Indeed, they've happily characterized "Ottawa's morass" in this region as a swamp of vested, bureaucratic interests hobbled by dogma, enriched by institutional entitlements and bloated by fat pay packages.
Still, when contemplating the shape of Fraser's and AIMS' happy home together, something about stones and glass houses comes to mind.
Hobbled by dogma?
For one thing, both tanks have written the book on Atlantic Canada. Literally. Every year, for as many years as anyone can remember, they write the same book.
In 2014, a Fraser editorial concluded: "Regionally 'enhanced' employment insurance (EI) hugely exacerbates (Atlantic Canada's) economic problems by using generous subsidies to bribe people not to work. Many like their 'right' to regionally-generous EI."
In 2019, an AIMS study noted that, despite these despicable dunsels, "Atlantic Canada can learn from jurisdictions that … introduced pro-growth policies including tax and regulatory reform, reduced government spending, balanced budgets and less debt."
On the other hand, they never talk about regional successes. You never hear, for example, about the P.E.I. BioAlliance, a cluster of high-tech companies in that province that generates more than $240 million in private-sector revenue, employs more than 1,800 people and accounts for more than $21 million per year in investment attraction. Timely, responsible government spending actually helped it get off the ground. You never hear about that either.
Enriched by institutional entitlements?
Both Fraser and AIMS are registered Canadian charities, which means they don't pay government levies on the money they collect to conduct their business.
They're also permitted to issue receipts for tax credits or deductions to appreciative donors, who naturally appear sympathetic whenever fundraisers dial up for dollars on lazy Sunday afternoons.
Are these not de facto government subsidies designed to support economically, socially or culturally important groups like, say, regional economic development agencies?
Bloated by fat pay packages?
The Canada Revenue Agency records Fraser having paid a total of $5.8 million to 47 full-time and four part-time employees (an average of $114,000 per person) in 2018.
In that same year, it says, AIMS forked over $355,000 to two full-time and three part-time staff (about $71,000 per capita).
Consider that Canada's median individual income per year is just $27,600 and that the average annual salary of a public employee in this country is about $65,000.
Any way you cut it, that's some good cake Fraser/AIMS is passing around.
Nosiree, it's just as Ben Eisen says. "There is no inherent reason why Atlantic Canadians can't be as prosperous as Canadians elsewhere in the country," the former AIMS director of research and current Fraser senior fellow wrote recently in a report.
"Pursuing proven pro-growth policy reforms and catching up to the rest of Canada economically should be a top priority for policy-makers in the region. … Clearly, forces outside the control of policy-makers will help determine whether living standards in Atlantic Canada fully converge with those in the rest of the country. However, the outcome will be significantly influenced by the extent to which the general public supports a pro-growth agenda and puts pressure on policy-makers to do the same. Global evidence suggests rapid convergence by struggling regions is possible if they embrace a consistently pro-growth policy framework."
Is it strange how all this sounds so familiar?
Here's an organization preaching from a common prayer book, promoting policies and programs it believes in, benefiting from entirely legal, institutional conventions (including a super-sweet tax regime) and paying its people well.
If I didn't know any better, it sounds an awful lot like … well … government.
Alec Bruce is a Halifax journalist who writes about business, politics and social issues, and editor of Troy Media Partner news site The Bluenose Bulletin.
---

The views, opinions and positions expressed by columnists and contributors are the author's alone. They do not inherently or expressly reflect the views, opinions and/or positions of our publication.