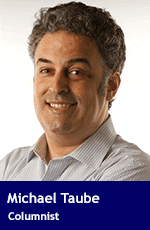 When Maxime Bernier, a former Conservative cabinet minister and federal leadership candidate, abruptly quit the party last month, he announced he would be starting a new political party.
Well, the nameless entity with one public face was finally given an identity on Sept. 14: the People's Party of Canada.
He couldn't have made a worse decision.
The term 'People's Party' has long been associated with socialist and communist parties around the world. This includes the People's Party of Panama, Cambodian People's Party, People's Party of Armenia, Pakistan Peoples Party, Communist People's Party of Kazakhstan, Danish People's Party and the People's Party of the United States.
There are, or have been, right-leaning People's Parties in countries like Spain, Austria and Belgium.
There's also the European People's Party, a transnational organization in the European Parliament that supports liberal conservatism and Christian democracy.
Nevertheless, it puzzles me why Bernier, a right-leaning libertarian who wants to shrink government, promote free trade, and eliminate restrictive policies like supply management, and end Canadian Radio-television and Telecommunications Commission (CRTC) control of that industry, would choose such an overtly left-wing name for his new party.
Marketing and branding are huge keys to success in modern politics. Bernier could have consistently said his mission was to work for the people, much like Ontario Progressive Conservative Premier Doug Ford, but use language that's associated with his personal and political ideology.
There's already a Libertarian Party in Canada, and the word 'freedom' is being used by a small party. Words like 'liberty' and 'justice' remain untouched, however. There was a New Capitalist Party in the 1965 federal election, but it quickly folded – meaning the second word was available.
Or what about Free Market Party, which I proposed several years ago?
All of these concepts could have worked to Bernier's advantage. Instead, he chose People's Party – which, in the savage world of political communications, is what many of us call a massive failure.
Ah, but there's more.
Bernier is not only the interim People's Party leader, he's also the future leader. Why? Because the so-called party of the people isn't going to have a leadership race to give the people a choice.
No one is disputing that several small Canadian political parties also skipped an inaugural leadership contest. But taking into consideration that the People's Party is arguably the most significant outfit to pass on a leadership contest, Bernier's decision leaves a bad taste. He should have opened the leadership up to other people.
Speaking of people, where exactly are they in this party?
Not a soul flanked Bernier during his press conference to unveil the party's name, or during his announcement of his decision to hightail it from Andrew Scheer and the Conservatives. He also claims the People's Party has raised more than $140,000 – which may be true, but we don't know the identities of the donors.
Meanwhile, only three people with public profiles are supporting Bernier: Michael Wekerle, a merchant banker who used to appear on CBC's Dragon's Den, marijuana activist Marc Emery and former Conservative MP Gurmant Grewal. That's fine, but it's hardly going to lead to a firestorm of activity.
In fairness, the People's Party is starting to acquire new grassroots members. Some disgruntled Conservatives have expressed interest in joining, which is to be expected. If Bernier's current popularity (between 14 and 17 percent nationally, according to polls) continues into next year's federal election, he'll be endorsed by others – and may find a way to join the leaders' debates.
Yet the party's biggest hurdle to success remains its public face. Bernier's decision to discredit a former leader, party and political movement that represents most of his views was bad enough. The decision to start a new party to soothe his hurt, fragile ego was disgraceful.
Have fun with the People's Party of the left … right … whatever, Mad Max. Most Canadians have or will see through this facade and stay away for now, and perhaps for good.
Troy Media columnist and political commentator Michael Taube was a speechwriter for former prime minister Stephen Harper.
---

The views, opinions and positions expressed by columnists and contributors are the author's alone. They do not inherently or expressly reflect the views, opinions and/or positions of our publication.