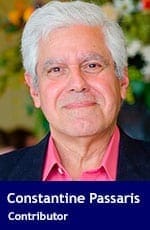 Canada's flag marks its 51st anniversary this year, but the story behind the inspiration, the origins and the design of the flag is not widely known, or appreciated.
So every year around this time, I take five minutes from my economics lectures at the University of New Brunswick to tell my students how Canada's flag came to be our standard bearer, nationally and internationally. I preface my remarks by saying "what I am about to tell you has nothing to do about economics but it is a story you should know as you grow up to become proud Canadians."
Feb. 15, 1965, was a very special day in Canada's history. On that day, Canada adopted a new flag.
I had the pleasure and the privilege to hear first-hand the story of the origins of our modern Canadian flag from the man who took pen and paper and sketched its first design. That man was George Stanley, who was appointed by Prime Minister Pierre Elliot Trudeau in 1981 to serve as New Brunswick's 25th lieutenant-governor. He served until 1987. During that time, I got to know him first in a formal fashion and later in a more personal manner.
Stanley was a distinguished looking man with a commanding presence. He served for two decades as a professor of history and dean of arts at the Royal Military College in Kingston, Ont.
He was a brilliant professor, an inspirational teacher and an academic perfectionist. He also had a reputation at the Royal Military College of being a hard task master. In 2004 on an international flight, my seating companion was a Canadian brigadier-general. We got to chatting and he told me he had been a cadet at the Royal Military College. I asked if he had taken any courses from George Stanley. He told me Stanley's students were terrified of him and vividly described the intellectual bruises that he had received from the professor.
The story of Canada's flag as narrated to me by Stanley starts in 1963. In that year, Prime Minister Lester B. Pearson decided to adopt a new flag that was distinctive and uniquely Canadian. Pearson's right-hand man for the flag project was John Matheson, then-member of Parliament for Leeds, Ont.
On March 23, 1964, Stanley sent Matheson a confidential letter on Royal Military College stationary. Stanley wrote "two emblems are usually associated with Canada, the beaver and the maple leaf." He went on to describe the historical context for the relationship between flags and heraldry.
Stanley also sketched two suggestions for a new Canadian flag. The first is, more or less, the flag we see today: two vertical red bars with a stylized red maple leaf on a white middle background.
What is missing from Stanley's letter to Matheson was a description of the inspirational moment that gave him the idea for those designs. Stanley told me that one morning on his way to class he crossed the Royal Military College parade square. The college's flag, fluttering in the wind, caught his attention. This was Stanley's aha moment, the inspirational instant that gave birth to our flag.
Stanley's design differed from the Royal Military College flag in one stylistic respect. Instead of the college's crest of a clenched fist in armour that holds three green maple leaves conjoined on a single stem, with a crown, Stanley proposed a more simple design of a single red maple leaf.
The new Canadian flag was officially adopted in 1965 and the rest, as they say, is history.
Dr. Constantine Passaris is professor of economics at the University of New Brunswick and a national research affiliate of the Prentice Institute for Global Economy and Population at the University of Lethbridge.
Constantine is a Troy Media contributor. Why aren't you?
---

The views, opinions and positions expressed by columnists and contributors are the author's alone. They do not inherently or expressly reflect the views, opinions and/or positions of our publication.