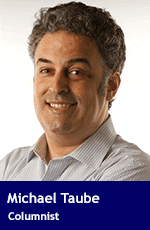 In recent years, Europe and North America have faced a rising political force called the new nationalism. It's a cobbling of right-leaning and left-leaning parties and politicians with nationalist, populist and anti-establishment views which oppose such things as free trade, globalization, open borders and modern liberal values.
Brexit in Britain, Italy's Five Star Movement and U.S. President Donald Trump can attribute part or all of their success to this political wave. The U.K. Independence Party, Poland's Law and Justice, Sweden Democrats, Holland's Party for Freedom and Hungary's Fidesz, among others, have also been described as new nationalists.
Two federal Conservative Party of Canada leadership candidates, Kellie Leitch and Kevin O'Leary (who has dropped out), fit in this equation, too.
Yet some political observers believe last weekend's French presidential election result put an end to the new nationalism.
Are they right?
Emmanuel Macron, a 39-year-old former investment banker and leader of En Marche!, beat National Front figurehead Marine Le Pen in Sunday's second round of voting. It was the first time in France's political history that the run-off included two candidates who didn't represent the major political parties.
Macron is an ex-Socialist Party member and former (unelected) economic minister who supports the free market and European Union, and wants to massively reform public-sector unions.
Le Pen rejects free trade and globalization, endorses a moratorium on legal immigration, wants to leave the EU and NATO, and has tried to wipe out the racist and xenophobic past of her political party – and her father, Jean-Marie Le Pen.
The politically inexperienced centrist free marketer was, in effect, the establishment candidate, while the politically experienced far right (albeit with leftist tinges) anti-globalist was the anti-establishment candidate.
Macron versus Le Pen wasn't quite as difficult a choice as the infamous 1991 Louisiana gubernatorial election between corruption-riddled former inmate Edwin Edwards and former KKK Grand Wizard David Duke. Yet it almost made last year's U.S. presidential election between Trump and Hillary Clinton seem like a cakewalk.
The French president-elect's victory has been applauded by many western democratic leaders. Some believe it could turn out to be a monumental election that helps preserve free trade, legal immigration and the global economy for generations to come. And, most importantly, it will help remove further appeal for the populist, nationalist and anti-establishment political wave.
That's certainly possible, but it's still a long way off.
The nationalism versus globalism debate explained by Pat Murphy
Much of current elite opinion would be soundly rejected by voters if ever openly expressed at the ballot box
For one thing, Le Pen earned the support of over a third of French voters, almost double what her father won in his surprising second-round presidential run-off against Jacques Chirac in 2002.
Some people will immediately dismiss this accomplishment because there wasn't a major party presidential candidate in her run-off and she was expected to get more than 40 percent of the vote. Yet the fact that she did better than her father in a similar anyone-but-Le-Pen scenario still says something about her political tangibility.
Meanwhile, Le Pen has a unique opportunity to become the official opposition to Macron's presidency.
The left-leaning Socialists and right-leaning Republicans are still licking their wounds, which leaves a huge opening for her. Plus, she's been slowly trying to moderate the party's policies on certain social issues (i.e. civil unions for same-sex couples, opposition to the death penalty), build bridges with France's Jewish community and so on.
There's still much work to be done, and she knows it. As she recently told supporters at a Paris rally, the National Front "must also renew itself." She will start "the process of a deep transformation of our movement," which, one assumes, will include a name change.
If Le Pen can successfully rebrand her party's new nationalist identity, that would be a huge game-changer in Europe and North America.
It would also mean this troublesome political wave hasn't receded quite yet.
Michael Taube, a Troy Media syndicated columnist and Washington Times contributor, was a speechwriter for former prime minister Stephen Harper. He holds a master's degree in comparative politics from the London School of Economics. For interview requests, click here.
---
The opinions expressed by our columnists and contributors are theirs alone and do not inherently or expressly reflect the views of our publication.
© Troy Media
Troy Media is an editorial content provider to media outlets and its own hosted community news outlets across Canada.