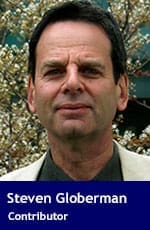 In this federal election campaign, the parties have proposed numerous taxpayer-funded programs to address various ostensible social problems. But no major party has made economic growth a significant focus of its election campaign.
The social problem areas cited include unaffordable education from preschool to post-secondary, a tax system that's insufficiently progressive and provides too many loopholes for large companies, and insufficient funding for pharmaceuticals, alternative energy, public transit, child care, sports, fitness and camping.
Presumably to stimulate business investment, the Liberals promise government financial support for startup businesses while the Conservatives promise to cut regulatory red tape.
And the Liberals claim they've been successful in growing the economy in a way that "works for everyone." No other party has challenged this claim with any enthusiasm.
But the fact is that the Canadian economy has been mired in relatively slow growth for most of the past decade. From 2011-2018, Canada's real gross domestic product (GDP) grew at an average annual rate of 2.17 percent. This pales in comparison to the 1960s and 1970s, when average annual real GDP growth was in the four to five percent region. In relative terms, recent GDP growth is even well below the annual growth rate of about three percent in the 2001 to 2010 period.
The fact that other high-income countries have experienced similar growth rates over the past decade should be no consolation for Canadians. Nor is it a reason to relegate economic growth, as in issue, to a minor role in the campaign. Prolonged slow economic growth begets social and political turmoil, as the expectations of many for a better standard of living are frustrated. It promotes special-interest lobbying and support for populist political remedies such as economic protectionism, which harm the majority while benefiting special interests.
But there's good news. Whether the candidates know it or not, the central issues of this campaign – including improved educational opportunities, investments in alternative energy and infrastructure, and even expanded recreational activities such as camping – are all the potential fruit of faster economic growth.
So what kind of growth can we reasonably expect, if policy-makers get it right?
The rapid economic growth of the 1960s and '70s was arguably unique to that period, which featured a rapidly growing labour force of baby boomers. However, as noted in a recent Fraser Institute study, a return to the three percent annual growth rate of the 2001 to 2010 period seems a reasonable policy objective. Meeting that objective would make a big difference to the future living standards of Canadians.
Holding Canada's population constant for purposes of convenience, a real annual growth rate of two percent would result in an almost $27,000 increase in Canada's per-person income after 20 years. At three percent, Canada's per-person income would be approximately $47,000 higher than it is today. So increasing Canada's economic growth rate from two percent to three percent per year would almost double the expected increase in the average real incomes of Canadians over the next two decades.
Clearly, how to recapture the relatively modest economic growth rate of this century's first decade is an issue worthy of serious political attention on the campaign trail and beyond.
Steven Globerman is a senior fellow at the Fraser Institute.
Steven is a Troy Media contributor. Why aren't you?
---

The views, opinions and positions expressed by columnists and contributors are the author's alone. They do not inherently or expressly reflect the views, opinions and/or positions of our publication.