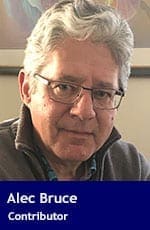 Who is Jenica Atwin and why should election-afflicted Atlantic Canadians – indeed, any Canadian in the morning after – care?
The answer to the first part of that question is straightforward: She's the political candidate who defeated her more seasoned Liberal and Conservative rivals to become the first Green Party of Canada member of Parliament from outside British Columbia.
Within hours of her convincing win against Liberal MP Matt DeCourcey in Monday's federal election, somebody thought her accomplishment was noteworthy enough to throw up a Wikipedia entry, to wit:
"Jenica Atwin, MP, is a politician who was elected to represent the riding of Fredericton in the House of Commons of Canada in the 2019 Canadian federal. She is an education consultant and researcher at a First Nations Education Centre, and completed a master's in education at the University of New Brunswick. She is … the first woman to be elected to the riding of Fredericton."
Meanwhile, here's what a Green Party website had to say about her:
"A mother of two, Jenica is an active community volunteer, athlete and organizer. From coaching to cultural events, she is an advocate for community involvement, youth and social justice. Her influences include her mother, a retired elementary teacher, her father, a municipal mayor, her step-father, a traditionalist and First Nations activist, as well as her many inspiring students, friends, colleagues and role models."
What's more, "Jenica is very proud of the Canadian Constitution and our Charter of Rights and Freedoms and will serve to protect it. She seeks to blaze a trail for others interested in civic engagement as a voice of the people and the planet with hope for the future. She is highly skilled in communications, system evaluation, strategy and program delivery, and she is eager to go to work as (a) member of Parliament."
As for the second part of the question, why we should care, the answer is obvious: She's a nobody and that's fantastic.
The past four years have been a veritable parade of 'somebodies' behaving badly: Justin Trudeau and his apologies and absurdities; Andrew Scheer and his xenophobia and divisiveness. We've reached the point where Canada's two main parties have lost the power to disappoint or shock us because, long ago, they lost the ability to cheer or inspire us.
Today, their policies are as insipid, inane, coarse and rank as their tactics. It's no wonder that growing numbers of their supporters are demoralized and worse – numbed by the utter imbecilities that tumble from their political encampments.
Perhaps, we may comfort ourselves in knowing that we've not yet descended into that special circle of hell where our American friends currently find themselves: Cheek by jowl with their very own 'Beelzeboob.'
Last year, when asked whether serious allegations against the U.S. president bothered him, a leading Republican senator shrugged, "OK, but I don't care." Earlier this month, another GOP lawmaker smirked that Donald Trump was "just joking" when he publicly urged China to join the Ukraine in helping him upend his political opponent Joe Biden.
Increasingly, it seems, we in the democratic West are not only inured to rot, corruption and cynicism in politics; in a strange way, we're proud of them. We use them as benchmarks for the abuse our system tolerates at the whims of the mighty.
Why looky here, old fellar … see how many times he kicks it in the teeth … still, it just won't break!
Under those special circumstances, then, all hail the coming of nobody special.
If, as her billing suggests, Jenica Atwin is ready to do her best and restore at least one corner of the country's faith in its public institutions, let the process commence without delay – when we still feel well enough to care about these things.
Alec Bruce is a Halifax journalist who writes about business, politics and social issues, and editor of Troy Media Partner news site The Bluenose Bulletin.
---

The views, opinions and positions expressed by columnists and contributors are the author's alone. They do not inherently or expressly reflect the views, opinions and/or positions of our publication.