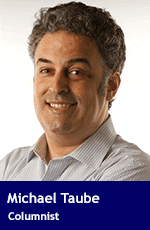 CNN host Fareed Zakaria has produced two recent specials about outgoing U.S. President Barack Obama. The first two-hour special, The Legacy of Barack Obama, first ran in early December . The second, The End: Inside the Last Days of the Obama White House, airs Wednesday.
Zakaria's films du jour attempt to create a mythology about Obama's eight years in office. Using contentious issues like gun rights, same-sex marriage and Obamacare, he's trying to prove this president's often-ridiculed progressive agenda helped change society in the U.S.
His first special even compared Obama's presidency to Ronald Reagan's transformational presidency.
While these two men were very different political and ideological thinkers, "Obama saw that Reagan had been a transformational president, someone who, as he said while campaigning in 2008, had 'changed the trajectory of America in a way that Richard Nixon did not and in a way that Bill Clinton did not.'" In the TV host's view, "Clearly that was Obama's aspiration as well – to change the trajectory of America."
Did he succeed?
Zakaria believes "the case would have been overwhelming" in mid-2016. However, he senses that president-elect Donald Trump's vow to "erase the Obama presidency" could put this into "jeopardy." Moreover, the CNN host pointed out that Republicans challenged most of Obama's policy positions on the basis of partisanship, apathy toward his progressive vision – and, quite possibly, because of his race.
The first two points are perfectly logical. Right-leaning conservatives don't support an increase in the size of government, higher taxes, wasteful pubic spending, and/or state control in our daily lives. Hence, there was very little in the Obama presidency that they could have agreed to, or worked with.
The latter point is ridiculous. Obama's racial background may have bothered some voters, but it had little to no effect on legislators. He could have been black, white, purple, green or any other colour: Republicans would have vigorously opposed his leftist policies because they disagreed with them – period.
On Obama's legacy, it's important to examine what he did, or didn't, achieve while in office. Yes, he's the first African-American president in U.S. history. While that's obviously consequential and inspiring, it has nothing to do with public policy – or an individual's legacy.
And yes, he's a talented speaker and communicator. But again, these are personality traits rather legacy-building achievements.
This means you have to analyze public policy, in which a politician's legacy can be made or destroyed in the blink of an eye. Alas, the Obama years are mostly laced with policy failure after policy failure.
For example, Obamacare has been an economic mess from the start, and deserves to die. The multibillion-dollar auto bailout, which was completed under Obama, hurt taxpayers and created a troubling level of state interference in the marketplace. He supported gun control, and learned the hard way that many Republicans and Democrats opposed it. The so-called Iran nuclear deal has been a shoddy affair with a totalitarian nation that can't, and shouldn't, be trusted. Rebuilding ties with Communist Cuba hasn't improved human rights on the island, or come close to establishing democratic elections and a free market. His foreign policy position on Islamic State, Syria, the Russia-Ukraine conflict and Israel, among others, have been a total disaster.
Hence, Trump and the GOP are going to remove what they perceive to be political and economic dead weight. It's not some sort of a vendetta, as Zakaria and others seem to be alluding. Rather, it's the natural series of events that occur when a new administration takes over. That's how politics works.
When you put everything together, Obama's legacy may be end up being that there really wasn't a legacy at all. Rather, it will likely be viewed as a short-term, left-wing stain in U.S. politics.
Michael Taube, a Troy Media syndicated columnist and Washington Times contributor, was a speechwriter for former prime minister Stephen Harper. He holds a master's degree in comparative politics from the London School of Economics.
---

The views, opinions and positions expressed by columnists and contributors are the author's alone. They do not inherently or expressly reflect the views, opinions and/or positions of our publication.