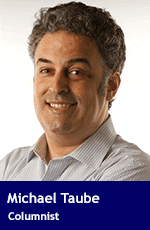 Why are some people so worked up about Ontario News Now?
The Twitter account was started by the Ontario Progressive Conservatives on July 31. It's being used as a political branding tool to promote Premier Doug Ford and his government's programs and policies.
The host is Lyndsey Vanstone, a former radio/TV producer and current deputy director of communications for PC Caucus Services. She's worked for Ford in different capacities – including at Ford Nation Live, which served as a prototype for Ontario News Now during Ford's PC leadership campaign and the recent provincial election.
Is this a revolutionary concept in political warfare?
Hardly.
The most notable example occurred during the 2007 Ontario election. Former TV host Ben Chin, who was a senior adviser to Liberal Premier Dalton McGuinty, played a news anchor (of sorts) in several politically-charged YouTube videos called Liberal News and/or Liberal TV. It was a strategic means of promoting the Liberals and attacking John Tory and the PCs.
Meanwhile, retired Toronto Star reporter Richard Brennan tweeted this on Aug. 3 in response to retired CBC political analyst/host Robert Fisher: "you will recall the Bob Rae NDP govt published its own newspaper – looking very much like the Star – because they complained the media was unfair to them and needed their  own voice."
Brennan, to his credit, remembered something most of us had long forgotten.
And then National Post columnist Christie Blatchford wrote: "researcher Kirsten Smith found a couple of copies at the Legislative Library at Queen's Park. In fairness, it's unclear now who paid for the paper – public funds or the party's – and how many editions were ever published. All the papers say is that they were 'a special edition of the Ontario New Democrat' and were 'published by the Ontario New Democrats.'"
And yes, the NDP's Ontario Star was a near-carbon copy of the Toronto Star.
It goes without saying that Ford's left-wing critics have resembled crickets when it comes to Ontario News Now's predecessors. Instead, they've gone ballistic because the social media account includes the word "news" in its title.
My God. Imagine how many poor, defenceless readers are confused about the difference between "Ontario News," "real news" and "fake news." Let's just shut down this Tory sideshow, and ensure that sunshine and lollipops dominate the Canadian news cycle forevermore!
All kidding aside, including the word "news" in the Twitter handle obviously wasn't the best choice. The Ontario PCs also shouldn't be spending taxpayer dollars to pay for Ontario News Now (even though it's legal), and I hope they stop.
But come on. This social media account is clearly an example of political propaganda used to promote the PC government's accomplishments. Anyone who has spent a few seconds watching Ontario News Now would immediately realize this.
Do you really think the vast majority of people are that stupid?
Sadly, it appears some do.
Moreover, there have been attempts to mock Vanstone.
Toronto Sun editor-in-chief Adrienne Batra pointed out in an Aug. 5 column that former Ontario Liberal health minister Deb Matthews "tweeted a screen grab of Vanstone, wearing an off the shoulder top (Oh, the horror!) and said, 'Hey @qpfashun, any comments on this? I confess that, at first I thought she was naked!' The tweet has since been deleted."
Alas, there's an obvious reason why Matthews sent out this disgusting tweet. "What's more galling is when a former prominent politician who served in a failed government that didn't miss a chance to talk about women empowerment and supporting young women," Batra wrote, "led a personal charge against Vanstone purely because she doesn't agree with her political views."
That's why some people are so worked up about Ontario News Now. It has nothing to do with real versus fake news. Rather, it's all about the political party and ideology behind it.
Troy Media columnist and political commentator Michael Taube was a speechwriter for former prime minister Stephen Harper.
---

The views, opinions and positions expressed by columnists and contributors are the author's alone. They do not inherently or expressly reflect the views, opinions and/or positions of our publication.
This site is Powered by Troy Media Digital Solutions