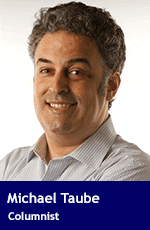 Political spin and media spin drive some Canadians up the proverbial wall. As a long-time columnist and political pundit who has occasionally utilized both of them (for my own purposes and never for a political party), I can understand why.
The real key to understanding spin is there are often kernels of truth in the web that's being created. Sometimes, they're obvious to the human eye and ear. Other times, you have to have dig deeper. And other times, many experts miss them altogether.
Let's use federal Conservative Leader Andrew Scheer as an example.
Scheer had a choppy start to the campaign for the Oct. 21 federal election. After a solid performance at the first leaders' debate, he's had to put out some political fires related to Tory candidates.
On Sept. 12, Cameron Ogilvie stepped down in Winnipeg North due to a questionable social media post, while Rachel Wilson (York Centre) was criticized for her anti-abortion position. Arpan Khanna (Brampton North) apologized on Sept. 13 for making a joke that some interpreted as being homophobic. On Sept. 14, Justina McCaffrey (Kanata-Carleton) apologized for a video in which she critiqued Prime Minister Justin Trudeau and francophones, and got slammed for an old friendship with controversial political commentator Faith Goldy for good measure.
Scheer accepted the latter two apologies. The media wanted to know why, since the Tory leader had previously indicated he wouldn't put up with racist or intolerant behaviour from candidates running under the party banner.
A 27-second video clip of his response to reporters on his campaign plane began to circulate on radio, TV and social media. Here's part of what he said:
"As long as someone takes responsibility for what they've said, and addresses the fact that in 2019 some things that may have been said in the past are inappropriate today, that if anything that they've ever said in the past caused any type of hurt or disrespect to one community or another and have apologized for that, I accept that."
This is an example of political spin. It's nothing evil or nefarious, but rather an attempt by Scheer to deflect attention away from the problem and focus on something else. Some people have suggested his current strategy is controversial, while others feel it's an easy opt-out when another Tory candidate stumbles on the campaign trail.
Taken on its own merit, an apology can work in certain instances, but not in each and every case. So Scheer's blanket approach appeared to have some significant holes.
Or did it?
Based on my experience in politics and the media, I sensed something wasn't right with this statement. It was too open-ended and left plenty of room for error. Very unlike the Tory war room of years past.
So I started to dig around. Within a minute or so, my hunch had been proven correct: this 27-second clip of political spin also includes a dose of media spin!
There was an important additional component to this interview that didn't get attached to the short video. It's mentioned in CBC News Network's Katie Simpson's Sept. 15 online piece:
'The apology acceptance plan is not a blanket policy though, and Scheer said there will be exceptions. "Obviously it depends on other aspects, including context.
"My point was, in the case of the candidates we've had issues with this week, people have right away expressed regret and taken responsibility."
So the Tory leader isn't going to accept every apology carte blanche. There will be different criteria, including context, used to determine whether the apology is acceptable and legitimate. If it is, he'll likely accept it. If it isn't, he'll reject it – and, one assumes, the candidate in question.
I'm sure a tiny number of people noticed this. But the vast majority didn't pay attention to this point because the media spin was much stronger than the political spin.
Don't always believe everything you hear from the masters of spin. Do your own research using legitimate news sources, get all the facts and make your own conclusions.
In other words, use a bit of counter-spin to combat the political and media spin.
Michael Taube, a Troy Media syndicated columnist and Washington Times contributor, was a speechwriter for former prime minister Stephen Harper. He holds a master's degree in comparative politics from the London School of Economics.
---

The views, opinions and positions expressed by columnists and contributors are the author's alone. They do not inherently or expressly reflect the views, opinions and/or positions of our publication.