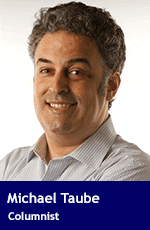 Quebec MP Maxime Bernier's decision to bolt from the federal Conservatives last week surprised some political observers. But based on what's known about "Mad Max," as he's often called, they shouldn't have been.
Bernier has long been an enfant terrible in Tory circles. While he has good economic ideas, including his support for abolishing supply management, his political acumen has always been a huge question mark.
The seeds of doubt were first planted during his tenure as minister of Foreign Affairs for then-prime minister Stephen Harper.
Bernier earned praise as minister of Industry (February 2006 to August 2007) for helping reform Canada's telecommunications industry. The hope was his new role would highlight his ability to speak comfortably with politicians, dignitaries, state officials and others.
But he was forced to resign from his Foreign Affairs post in May 2008 after an embarrassing political moment.
Bernier left a briefcase containing a confidential briefing book at the home of his then-girlfriend, Julie Couillard. She had, shall we say, an interesting past, including romantic involvement with a Hells Angels member. Couillard put the briefcase aside, never read the confidential files, and returned the whole kit and caboodle to a Foreign Affairs office.
Some political commentators argued it was nothing more than a silly move on Bernier's part. But having worked in the Harper prime minister's office, I can tell you the proper handling of secret government materials was no laughing matter. The fact that a minister of the Crown had taken confidential files out of his office and completely forgotten their whereabouts showed real irresponsibility.
He had no choice but to step down.
Bernier rebuilt his shattered public image as a backbencher. He gave speeches around the country and chaired the National Defence Select Committee. Harper brought him back into the cabinet as minister of State (Small Business and Tourism) in May 2011, with an additional portfolio in Agriculture in July 2013.
After Harper's defeat in 2015, he served as Opposition critic for Economic Development and Innovation under interim Tory Leader Rona Ambrose. He resigned that post in April 2016 when he became a candidate for the federal Conservative leadership race.
This is where Bernier's political tale dramatically shifts.
After leading this race for 12 rounds, he lost in the 13th round to Andrew Scheer. Of the roughly 141,000 party members who voted, Scheer won by 50.95 to 49.05 percent – or a total of 7,049 votes.
Even though Bernier was reappointed to his critic's role under Scheer, this razor-thin loss seemingly gnawed at him. Some politicians accept defeat gracefully and work hard in different political roles in the hopes they'll one day assume the leadership mantle. He wasn't one of them, and gradually turned on his leader and party.
A political book he wrote was shelved after Tory officials expressed concern about a volatile chapter in which he claimed Quebec's dairy lobby had propelled Scheer to victory after he promised to protect supply management. This chapter eventually appeared on Bernier's website and he was booted out of the shadow cabinet.
He then railed on Twitter against "extreme multiculturalism and the cult of diversity" being touted by Prime Minister Justin Trudeau. Other tweets followed, including his support of "diversity" but opposition to "more diversity" in Canada. While few people understood the difference, it all ran counter to Tory support for our diverse nation.
Finally, he left the Tories before the weekend convention in Halifax and announced he would start a new right-leaning political party rooted in conservative and libertarian principles. He wrote on his Facebook page: "The Conservative Party has abandoned conservatives. It does not represent them anymore. And it has nothing of substance to offer Canadians looking for a political alternative."
That's complete nonsense. Scheer and the Tories champion small government, lower taxes, more individual rights and freedoms, a free-market economy and trade liberalization, among other things. Those are small 'c' conservative values and, contrary to Bernier's belief, they haven't disappeared into thin air.
The facts are simple: Bernier satisfied his fragile ego by starting a party with no name, no website, no social media presence, no candidates nor members. Some disgruntled Conservatives will likely join up, but established Conservative politicians, strategists, commentators and others won't go near it. The risk is much greater than the reward.
Bernier's nameless party is hovering around 13 percent, according to Abacus Data. But for how long?
When the good, bad and ugly of this enfant terrible is revealed for the rest of the country to see, his political charade will quickly flame out.
Troy Media columnist and political commentator Michael Taube was a speechwriter for former prime minister Stephen Harper.
---

The views, opinions and positions expressed by columnists and contributors are the author's alone. They do not inherently or expressly reflect the views, opinions and/or positions of our publication.