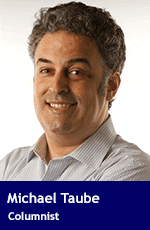 What does fiscal responsibility mean to Prime Minister Justin Trudeau? Honestly, I don't have the foggiest idea.
Trudeau recently told Bloomberg TV, "One of the things that's really important to me is fiscal responsibility. You don't have to make a choice between being fiscally responsible or making investment, but you have to be making investments responsibly and you have to fit it into an overall scheme."
Here's the problem. From the very moment that last year's federal election writ was dropped, he's acted like a classic tax-and-spend Liberal. Or, to put it another way, fiscally irresponsible.
Trudeau committed to three consecutive years of federal deficits, which should have destroyed his campaign from the get-go. He wanted to tackle income inequality, and hike taxes for wealthy Canadians. He also called for scrapping the universal child care benefit, income-splitting (which wasn't a bad idea), and increased contributions to tax-free savings accounts.
Gone are the days when then-Liberal prime minister Jean Chretien and his finance minister, Paul Martin, acted fairly prudently with the taxpayers' money. What we have now is a frustrating return to Trudeauvian economics. Pierre, that is.
Hold on. As CBC Parliamentary Bureau senior writer Aaron Wherry pointed out on March 18, "Pierre Trudeau actually balanced his second budget in 1970."
That's true. But when he left office in 1984, the Canadian economy was completely shattered. Our nation lived through its worst recession since the Second World War, a bloated welfare state, massive unemployment rates, inflation hitting the stratosphere, and a huge overall rise in state control. Western Canada was disgrunted at the deplorable National Energy Program, too.
Well, let's not worry about that. The elder Trudeau balanced his second budget, after all.
In fairness, the current Prime Minister knows he can't be – and shouldn't aspire to be – a carbon copy of his late Pater. He told an enthusiastic New York audience last week, "I most certainly wouldn't be in this chair if I had tried to emulate my father in everything he did."
Great. So why is he trying to walk in his father's giant footsteps and ignore the need to be fiscally prudent?
This week's federal budget is a prime example.
The deficit was originally supposed to be no more than $10 billion. That's what Trudeau kept saying during last year's election campaign. Well, the Liberals now claim it will be at least $18 billion – with strong hints that it could more realistically be at $30 billion or higher.
Even if you accept the fact that Canada's financial conditions have changed since Trudeau took office, it's an enormous hike from his campaign promise. Keeping in mind that this PM said he would run three consecutive deficits of less than $10 billion, and balance it by the fourth year, our domestic economy could potentially take a nosedive of epic proportions with this new Liberal math.
Meanwhile, Trudeau gave away one of Finance Minister Bill Morneau's budgetary promises during the New York trip. The federal government will reverse former Prime Minister Stephen Harper's decision to increase the age of people receiving Old Age Security payments from 65 to 67.
The reason Harper did this – which was part of his 2012 budget – wasn't to be a mean, rotten Tory wielding a big machete. Rather, it was because Canadians are living longer, remaining productive in the workplace, and don't need to retire quite as early as before. His plan was widely praised, and helped our country's Gross Domestic Product, income tax rates and overall economic fortunes.
Trudeau, in his quest to eradicate just about anything that Harper implemented, is wasting our taxpayer dollars on a move that isn't realistic or economically viable in today's society. All Canadians will ultimately suffer from this foolish strategy.
Actions speak louder than words, Prime Minister. When it comes to fiscal responsibility, you're all words – and absolutely no action.
Michael Taube, a Troy Media syndicated columnist and Washington Times contributor, was a speechwriter for former prime minister Stephen Harper. He holds a master's degree in comparative politics from the London School of Economics.
---

The views, opinions and positions expressed by columnists and contributors are the author's alone. They do not inherently or expressly reflect the views, opinions and/or positions of our publication.