Reading Time:
7
minutes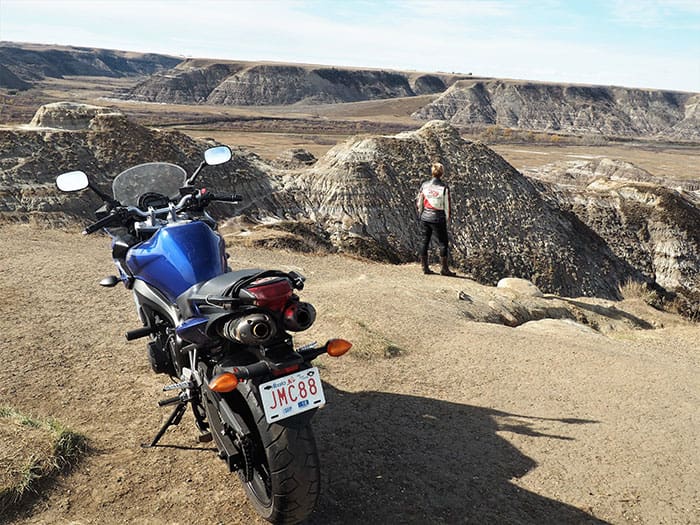 By Lisa Monforton
and Doug Firby
Sometimes you just need to hightail it out of the city to a place that makes you feel free. For us, that's Alberta's Badlands and our exit strategy is on a 600 cc Yamaha motorcycle.
Escaping the daily grind cubicle, we exit Calgary within minutes. By Kilometre 100, we're grinning. OK, it's really more like an audible giggle, but no one can hear as the wind envelops us from helmet to boot.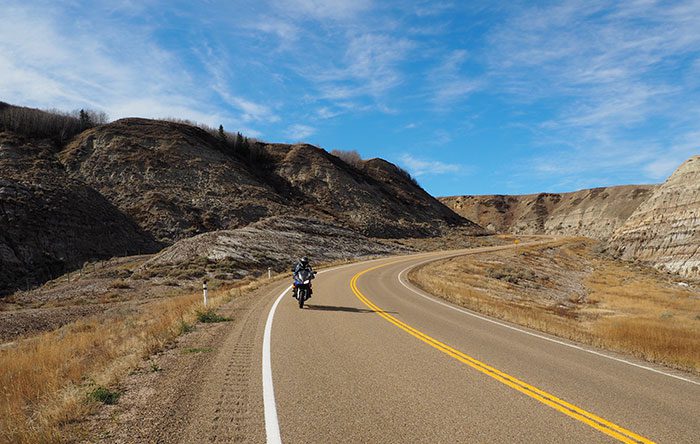 Wheat fields and Alberta's endless sky unravel like a blanket beyond the windscreen. We're heading north and east to one of our favourite hideaways – Alberta's Badlands.
The quiet highways here have enough bends to keep the ride interesting. The otherworldly scenery, colourful steeped-in-history landmarks, the curving Red Deer River, and sites around every corner offer perfect excuses to get off the bike and stretch your legs.
Around Kilometre 120, we're entering a parallel universe. On Highway 9 near Drumheller, we gear down and let the engine hold us steady at 70 km/h as we descend the undulating road into Dinosaur Valley. All at once, the prairie flats are in the rearview mirror and we're surrounded by weather-worn hills battered by millennia of rain, wind and snow.
It inspires awe to think we're cruising through this ancient land where massive and toothsome T-Rex and horned triceratops once trod. This is, after all, one of the world's largest caches of remnants from the prehistoric age.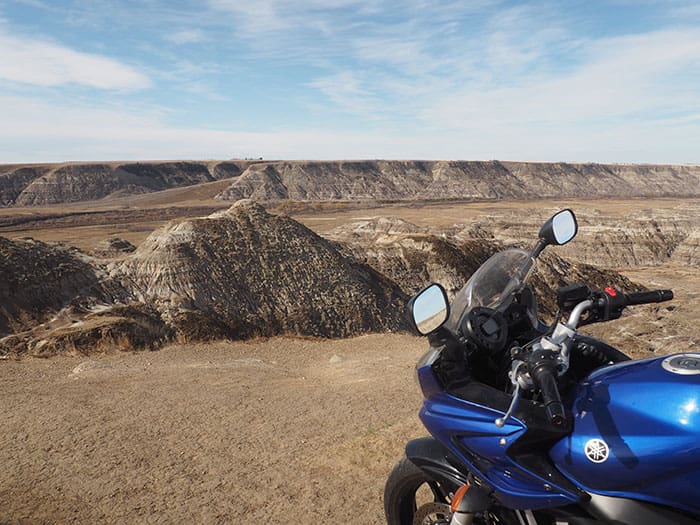 Drumheller Valley is a popular destination for all kinds of motorcyclists, including sport bikers and cruisers on big Harleys. Out here, your city persona can be a secret. "You can effectively disappear from the corporate world for the weekend and just get away from the city," says Paul Salvatore, with the Town of Drumheller.
At the edge of town, we stop at one of a few gas stations to fill the tank. We've got everything we need – leathers, gloves and helmet for protection, a full tank of fuel, and some snacks.
Two main riding loops can be found in the Valley: The Dinosaur Trail and the Hoodoo Trail. You can cover both in a day if you leave Calgary early enough. You can easily make it a whole weekend escape here because there are just so many ways to get lost in the landscape.
Hidden-in-plain-view Horseshoe Canyon
Just outside of Drumheller, drop your kickstand at Horseshoe Canyon. A few hundred metres from Highway 9, hiding in plain view, is a moonscape of desert-hills and gullies. Take a hike if you have the time.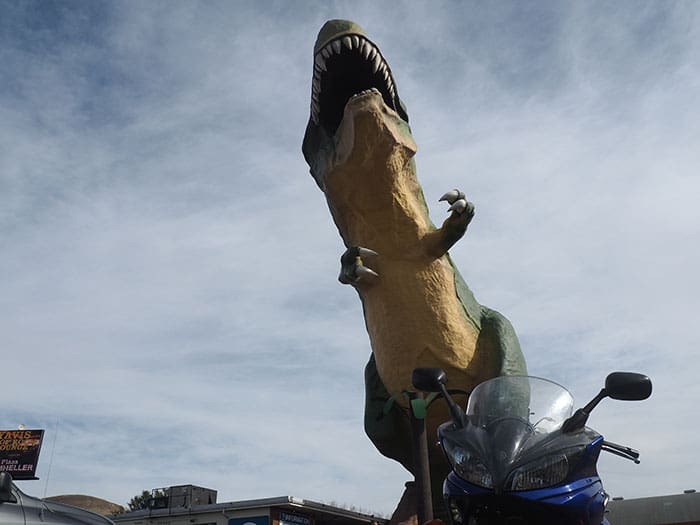 World's largest dinosaur
Never one to negate its prehistoric beginnings, Drumheller, aka, Dinosaur Capital of the World, revels in its Cretaceous-ness and Jurassic-ness. "A good business does not go extinct," declares The Fossil Shop, one of the town's many businesses leveraging the camp of it all. Take a stroll down Tyrannosaurus Drive and Albertosaurus Street downtown, and don't miss the photo opp atop the 106 stairs in the mouth of the 25-metre-tall T-Rex.
Steal some solitude at Horsethief Canyon
Kicking the bike into third gear, we cruise gently up Highway 838 (North Dinosaur Trail) northwest of town, passing Midland Park and the Royal Tyrrell Museum, which is worth a day's visit in itself. Rising above the valley, a montage of classic Badlands emblems is in your view: sunny canola fields edge up alongside waving wheat fields, pastoral backdrops to the non-stop pumpjacks bending on bald-prairie knolls. We pull into Horsethief Canyon, named for the old-time horse-stealers who came here to hide from the authorities, and pull some snacks out of our backpack. Pure solitude like this can't be found in the city.
You gotta stop here for gourmet burgers
If you don't feel like packing a lunch, head to Bernie & The Boys Bistro. It's smart to avoid the noon-hour rush because the word is out on this place featured on the popular Food Network program You Gotta Eat Here! Gargantuan gourmet burgers and poutine are their stock in trade.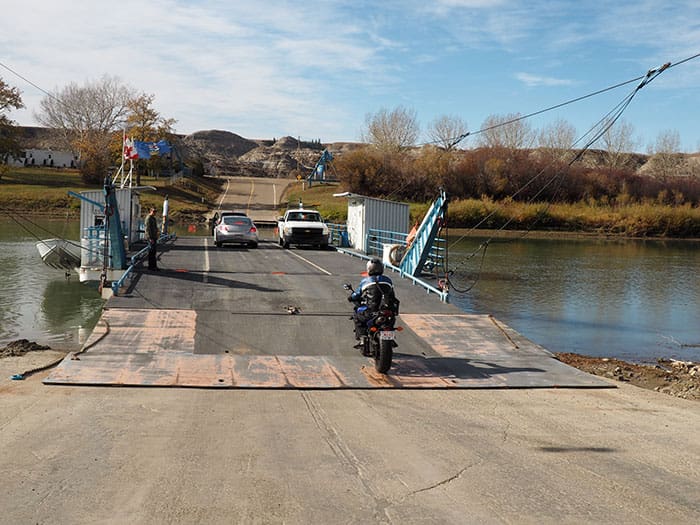 Short but sweet Bleriot Ferry ride
At the northwest tip of the route, we drop into neutral and let the bike roll to the Bleriot Ferry, waiting to convey us and a few cars across the Red Deer River. This ferry is famous for two reasons: It's the only cable-operated ferry in Alberta and the shortest ferry-crossing in western Canada. It's free, can fit about 15 vehicles during the summer crush and takes all of two minutes. We fire up the bike, and cruise back to Drumheller on Highway 575.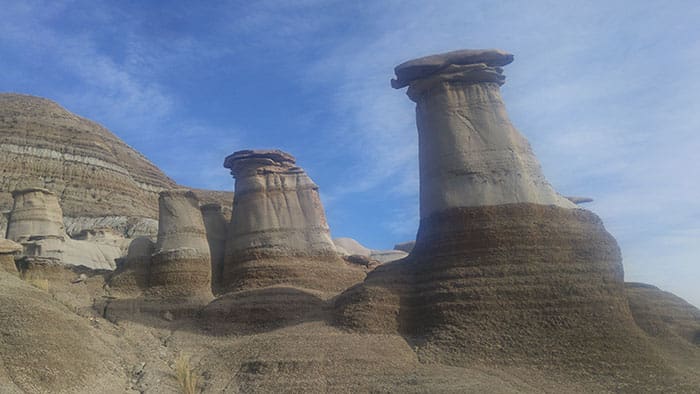 Deep history along Hoodoo Trail
Back in town, the sun is warm, the roads are smooth and light on traffic, so we decide to take the Hoodoo Trail loop along the winding Highway 10. The bike sneaks up to 100 km/h until we come across the first hamlet – Rosedale. We trace the lazy Red Deer River, leaning into curves as we carry on through Lehigh en route to East Coulee. As we draw near, rows of petrified sand dunes and outlandish geologic mushroom-like formations appear on the north side of the highway. We'll come back to these hoodoos, but first we head to some Alberta mining history.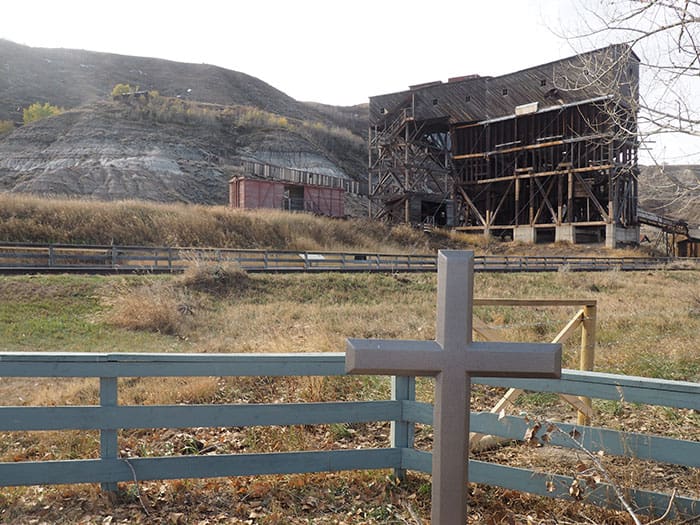 Atlas Mine
Just past East Coulee, the eerie looking Atlas Coal Mine, a National Historic Site, comes into view. Canada's last remaining wooden tipple towers over the site where coal mining was the region's economic engine, and a time when boys and men went to work in the "beast of the belly." If you have time, take one of the tours, like the Unmentionables Tour, which delves into the gritty history of Drumheller Valley's mining past.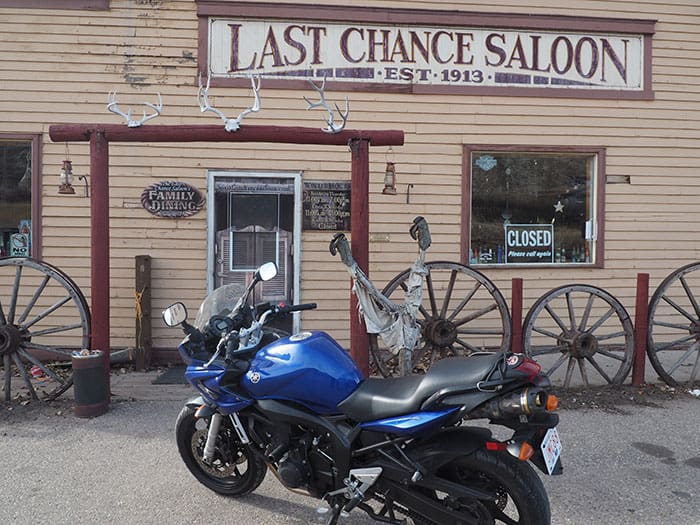 Gear down at the Last Chance Saloon
After a quick stop to appreciate the sandstone hoodoos with some pictures, we head back to Rosedale, drop it into second and head towards one of my favourite roads of the trip – the nine bridges that take you to the Last Chance Saloon in Wayne. Up and down the gears, we accelerate then brake hard as we approach the wood-tracked bridges that take us to the town entrance, which declares: Population: "Then 2,490, Now 82."  The wood-frame Last Chance, built in 1913, has motorcycle-only designated parking spots out front, a nod to the establishment's annual Motorcycle Madness event in July. In summer, day-trippers and weekenders can easily quadruple the population. You can camp here or stay at one the vintage hotel rooms before heading back to your reality.
More routes and events:
In July, the Last Chance Saloon holds its annual Motorcycle Madness Rally, a weekend of events, including a poker run and a show-and-shine.
East Coulee SpringFest: An annual music festival held in early May. It features a lineup of rock, blues, country, folk and alternative musicians from across western Canada, who play for free. Proceeds go to support East Coulee School Museum.
Dinosaur Valley Half Marathon (with options for 5 K and 10 K) is held annually in September. It's a gentle and fairly flat course with a couple of small hills.
Canalta Hotel in Drumheller and other locations around Alberta offer a motorcyclist's program that includes designated parking, a wash station with complimentary soap and sponge, kickstand pads and detailed route maps with attractions. Free breakfast and wi-fi also included in stays.
Lisa Monforton is Editor of Travel Like This and Doug Firby is Publisher of Troy Media. The married couple are also travel partners.
---

The views, opinions and positions expressed by columnists and contributors are the author's alone. They do not inherently or expressly reflect the views, opinions and/or positions of our publication.