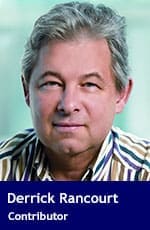 As a baby boomer, I'm very concerned about my future dignity in Alberta.
For the past two months, my 85-year-old mother-in-law, who suffers from dementia, has lived in Foothills Hospital because there are no long-term care facilities that can accept her. Her days (and nights) are spent locked in a chair because she wanders and gets in trouble with other patients.
Because she's not attended to as much as she should be, my wife spends two to three hours before and after work each day (plus weekends) to help attend to her.
The floor she's on is full of similar patients also waiting for suitable long-term care space.
I'm not a hospitalist but I don't think a hospital should be a holding tank for senior citizens.
A physician colleague explained to me that this shortage of long-term facilities is one of the causes of the backlog people experience when they go to the hospital. Emergency patients, who should be admitted onto a hospital floor, instead are attended to in emergency hallways, while non-emergent citizens are corralled in the waiting area for hours.
Paramedics, who should be transferring patients to the hospital and getting back in circulation, can't do so until their charges are admitted. This, in turn, causes an ambulance shortage. On Friday, this ambulance shortage was the reason my mother-in-law was not transferred to the long-term facility bed that finally became available.
The 'silver tsunami' is the term used to describe the huge, anticipated number of senior citizens who are about to crash the healthcare system. I'm 57-years-old and at the end of baby boom. In the next 10 to 20 years, thousands of baby boomers are going to reach the age of my mother-in-law and will need long-term care beds, which Alberta doesn't have. To make matters worse, our government has climbed into a big deficit hole because of our overreliance on oil and gas revenues. It's not clear to me if the oil and gas sector will ever come back enough to get us out of this hole.
What are we Alberta boomers to do? How will we maintain our dignity in our old age?
When this topic comes up in conversations, I'm always brought back to my favourite scene in the movie Soylent Green, when an older Edward G. Robinson character checks himself into a euthanasia centre because he's tired of living. Health economists suggest that most future healthcare costs will come from seniors in their last two years of life (arguably a stage of life not worth living). Maybe with the new assisted death legislation on the horizon, we'll have the opportunity to choose a similar exit and not be a burden on society (or our children).
The new United Conservative Party suggests that more dollars can come from the incredible waste in our healthcare system and that extra resources can be gained from running a tighter ship.
I partially agree. For example, why does my mother-in-law need an ambulance to go into her new long-term facility when a taxi will do? Why can't paramedics transfer their charges to the hospital and get back into circulation?
However, running a tighter ship won't lead to the building of more long-term care facilities in preparation for the silver tsunami.
Alberta needs a stable tax base. Our government can't plan for its healthcare future when revenues are tied to the oil and gas economy. I observed this first-hand when my daughter announced she was moving to Nova Scotia after graduating from nursing school. I laughed and said she would be far better off finding a job in Alberta. No sooner had she received that job in Nova Scotia than they started laying off Alberta nurses because of the downturn in oil and gas.
Alberta needs a sales tax so the government can anticipate future revenues and plan accordingly. While the new conservative coalition is gaining momentum complaining about waste, somebody needs to get some courage and convince the electorate that the only way we boomers can die with dignity is if we start paying sales tax.
If the NDP is going to lose the next election, the greatest service that Premier Rachel Notley could do for Alberta is fall on the sword and introduce a sales tax.
In turn, any future surplus from oil and gas revenues can come back to Albertans in the form of rebates (like the "Ralph bucks," handed out by former premier Ralph Klein).
Derrick Rancourt is a professor in the University of Calgary's Cumming School of Medicine, where he chairs the Graduate Science Education's Professional Development Taskforce.
Derrick is a Troy Media contributor. Why aren't you?
---

The views, opinions and positions expressed by columnists and contributors are the author's alone. They do not inherently or expressly reflect the views, opinions and/or positions of our publication.