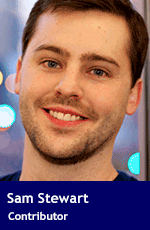 Las Vegas in the summer isn't a bad gamble, despite the heat – and even if you don't gamble.
My girlfriend, a friend and I recently spent four summer days in Vegas.
The first thing you notice is the wall of dry oppressive heat. "Stepping outside is like checking the turkey in the oven," someone joked. But this nicely chilled Canadian boy eagerly welcomed the sun's onslaught.
A black limo could have pulled up to the airport terminal to whisk us through a Vegas night filled with brilliant flashing lights and breathtaking sights. The only thing wrong with that straight-from-a-movie scene was that it was the middle of the day, our limo was white, shared with strangers, and said "Airport Shuttle" on the side. Otherwise, just like the movies.
As we checked in to our hotel, we were offered a choice of rooms. We simply asked for the one with the nicest view. The man behind the desk nodded with a grin, saying he knew just the one, we were going to love it!
In our room, we rushed to the window, threw open the curtains and took in the breathtaking scene: a few closely-clustered buildings and a gravel roof directly below. Vegas, baby.
Limos and views aside, Vegas has plenty to offer – on the cheap.
We had a wild and relatively inexpensive trip as part of a pool party package that included free admission and priority entry to, you guessed it, a pool party every day, as well as a club on the Strip every night.
We spent the time in between exploring the Strip, wandering the hotels, checking out Fremont Street in downtown Vegas, buying beer from Walgreens and just taking it all in.
Notably absent from our itinerary, however, was gambling. We never felt compelled to sit down at a slot machine or a poker table. To me, the gambling just blended into the scenery as if it were part of a Vegas exhibit we were passing. There was so much else to do that we never bothered to even stop and watch.
I'm not much of a club-goer generally. At best, if they're playing bad 1990s pop music, I can be encouraged to execute some of my repertoire of awkward dance moves. So in the days approaching our trip, I felt a growing anxiety.
How was I going to fit in with a crowd of pool partiers: a bunch of model-worthy beach bodies next to my less-than-perfect physique (I know we're not supposed to give a crap what anyone else thinks but we all know that's not always how it works).
But poolside, it didn't take long to realize that my fears were unfounded. Getting tipsy and splashing around in a pool is a lot of fun, especially when music is playing and everyone around you is doing the same thing.
And the evening clubs were a spectacle, complete with cool light effects. At a place called Omnia, an enormous set of concentric rings descended from the roof as part of the show. At first, it looked like a huge, shining UFO was landing in the club. But the rings soon split into different formations, while flashing a brilliant light show. The rings and lights constantly transformed as this enormous piece danced fluidly in time with the music (check out http://omnianightclub.com/las-vegas/).
Fremont Street offers a vastly different style of attraction. The only thing it shared with the clubs was the wildly garish display of flashing lights – but you'd be hard pressed to find a place in Vegas that isn't constantly lit up like a Christmas tree on fire. Fremont Street, or more accurately Fremont Street Experience, is essentially Old Vegas, before the Strip took over.
It's a condensed four or five blocks of great entertainment. The theme is Old Las Vegas, modified to cater to modern tourism. Attractions include ziplining, the Heart Attack Grill and the Mob Museum. Some of the best drinks I had in Vegas were on Fremont Street at a little place tucked beside the Heart Attack Grill called Banger Brewing. The beer's great and the staff were incredibly friendly. They don't serve food but there was a food cart right next to the patio tables that did the trick.
Check out Fremont Street Experience at night to see a fabulous spectacle of lights, sounds and people like no other.
But the trip wasn't just about Vegas. It was also about the fellow tourists we met at every pool and club we went to. We had fun with great people, exchanged numbers and met up again at other events. We met people from California. We met a guy whose real name we heard only once, but who everyone knew as Skip. We met a couple from New Zealand who lived in Edmonton for a while – one street north of where my girlfriend and I live now. They all helped make the experience as great as it was.
You can go to Las Vegas to gamble, see expensive shows by headliners or to shop like crazy.
Or you can go to Vegas to party on the cheap, like we did.
Almost certainly something will appeal to you. We wished we had more time to soak it all in. But we're already making a list of the things we'd like to experience next time.
Sam Stewart has a diploma in theatre studies and a degree film studies.
BECOME A TRAVEL LIKE THIS CONTRIBUTOR. Contact us for details. 
© Travel Like This
---

The views, opinions and positions expressed by columnists and contributors are the author's alone. They do not inherently or expressly reflect the views, opinions and/or positions of our publication.