The world is cautiously opening up again, and many firms are busy planning their business travel requirements for 2021 and beyond. If you're one of those employees, you may be wondering how to ensure that your trip is safe and productive.
Here are six tips to improve your next business trip.
Be Plane Healthy
Planes can be a breeding ground for germs and general grime, and not every business has the luxury of flying first of business class.
Stay healthy on a plane by wearing your face covering when required, using hand sanitizer as much as possible (but remember to wash your hands with soap every three times you use sanitizer) and take your own pillow if you need one.
Drink Plenty of Water
The human body is 60% water, and on trips away, it's all too easy to skip drinking enough water. Always carry a water bottle with you, and make sure you take regular drinks. You can even set a water reminder app on your phone to remind you to drink.
If your business trip will be somewhere the water isn't reliable, consider a water bottle with an inbuilt filter that can keep you safe on the road. Companies such as Grayl, Berkey, and Water To Go make great sports style water bottles with inbuilt water filters that can filter any water (except salt water) for clean and safe drinking water.
Make a Routine
Business trips are about getting work done; always use a professional business trip management service to ensure you are on track with meetings, flights, hotels, and other business travel considerations. It makes sense to leave this bit to the experts.
Don't Skip the Workout
Staying in a hotel can promote laziness in the best of us. Those beds are made comfortable for a reason! It's easy to fall out of good habits, and for that, it's very important to stay on track with your workout routine.
Whether that means taking a run around the local area, swimming laps in the hotel pool, or doing a workout routine from YouTube in your room, always get those moves in to keep you moving.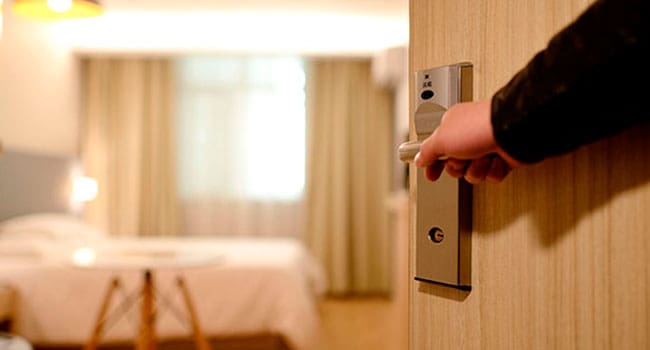 Clean Your Hotel Room
Hotel rooms are generally fairly clean places, but it's important to make sure you don't pick up any bugs and take them home.
Pop the TV remote in a bag and wipe down handles and surfaced with an antibacterial wipe or two. Oh, and while you're at it, wear slippers in your hotel room; that makes sense.
Eat Healthily
It's easy to grab fast food in an unknown location, however too much fast food and you could end up with brain fog or just feeling sluggish, but how can you ensure your food is safe as well as healthy?
Find out what the healthiest option on the hotel menu is but avoid salads that may have been washed in unsafe water. Failing that, go out and eat with the locals; you'll get tasty food that you know is safe to eat!
---
This content is a joint venture between our publication and our partner. We do not endorse any product or service in the article.