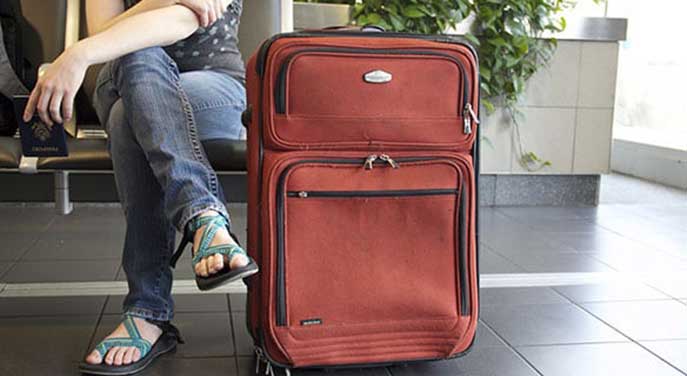 New York City is one of the most exciting cities in the world to visit. And if you are planning a trip there, we are so excited for all the magic you are about to experience there.
From taking a trip at sunset to the top of the Empire State Building to exploring the social scenes at roof top bars or throughout Central Park, you are in for the trip of a lifetime. And after being shut down for so many months, there are plenty of new places to explore.
There is a reason that New York City is normally at the top of everyone's bucket lists.
However, when it comes to big and exciting cities, there is also an added layer of needing to be extra smart and sensible when it comes to your trip, your safety and your belongings. With every perk of visiting New York City comes a few cons that you should be aware of. This includes the downfalls of trying to bring your luggage out into the open with you.
As much as we hate to admit it, luggage is at risk of being stolen in New York City if the right precautions are not taken. But no need to fear, as we are going to share with you all of the tips and tricks to keeping your luggage safe as you travel through this lively and exciting city.
Pack Strategically
One of the first steps in keeping your luggage safe is to only pack essentials for what you need on this trip and leave the rest of your valuables at home. One reason is it will allow you to easily keep your luggage with you and bring it as a carry-on item on a flight or tucked under your chair on the train. The second being that you will also likely want to do some shopping while you're there, and trust us when we say you can find anything and everything you have ever wanted to buy in New York City.
Don't Put All the Valuables Together
This is a great traveling trip no matter where you go. You should never risk putting all your important items like keys, wallet, cash, credit cards and IDs in the same bag. Because if that one bag goes missing you will have lost everything. Instead, separate these into a few different secure places so that you don't have to worry about this less than ideal scenario that has unfortunately happened to way too many people.
Book Luggage Storage in Advance
Thanks to the brilliance of the internet, you can now pre-reserve your luggage storage in NYC before you even arrive. This allows you to save valuable time and drop off your luggage before you check-in to your hotel or check-out of it with the peace of mind it will be well looked after. The cost per day is less than an oat milk latte and comes with both content insurance and secure seals. That way you can enjoy a hands-free day exploring and doing everything you want to do.
Invest in Luggage Locks
This one is easy, affordable and a huge game-changer when it comes to keeping your luggage secure. Even if you do leave your luggage at a quality storage facility, we still recommend getting luggage locks as well. That way you can have extra peace of mind that others can't simply go into your bags and take whatever they please. A golden rule for travel is to always have at least two luggage locks per piece of luggage.
Get That Travel Insurance
While some are more than happy to take the risk, we always encourage any traveler to get travel insurance for their trip. While the allure of the unknown is what makes a trip so fun, it can also instantly ruin your time in a new place as well. So why risk having bad memories in New York City when a hassle-free purchase of travel insurance can help ensure that no matter what happens, you are covered.
Traveling to New York City is one of the most exciting places to pack for. Just make sure that you pre-plan your luggage storage and security upfront so that you can hit the ground running when you arrive. From packing minimally to pre-booking a luggage storage spot online, you can easily plan to have your luggage well looked after and secure regardless of how long your time in New York City will be.
---
This content is a joint venture between our publication and our partner. We do not endorse any product or service in the article.