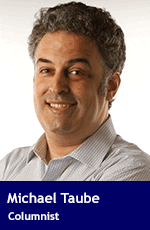 There are times when an apology is genuine, based on personal regret over a decision, direction, thought or action that ultimately caused some harm.
There are also times when an apology is based on the fact that someone got caught doing something wrong.
In my opinion, the apologies by Prime Minister Justin Trudeau's two senior advisors, principal secretary Gerald Butts and chief of staff Katie Telford, are in the latter category.
Last week, it was revealed that the Liberals had spent $1.1 million on reimbursements for moving expenses after last year's federal election.
Most of the 49 ministerial aides received a few thousand dollars, which is par for the course. It was eventually revealed, however, that Butts and Telford's combined expenses were more than one-fifth of the total payout for their respective moves from Toronto to Ottawa.
Butts claimed $126,669; Telford, $80,382.
How on Earth did they reach these sorts of numbers?
Butts's Facebook page on Sept. 22 noted that the PM's mandarins claimed significant sums of money for real estate/legal fees as well as a "personalized cash payout and incidentals." (Butts also expensed the land transfer tax, an additional municipal tax that has long been the source of much derision in Toronto.)
They noted this reimbursement policy "has been updated periodically over the years" by various federal governments, including the Conservatives in 2011. But after their claims were made public, they both reached the conclusion that the "personalized cash payout," as well as the land transfer tax, were "unreasonable" expenses.
"We take full responsibility for this having happened and because of that we are sorry," Butts and Telford jointly wrote. "We've learned a lot of lessons over the past few days, and we commit to continuing to improve transparency in the future."
On the surface, this apology sounded genuine. But was it?
It is true, these expenses were within the rules. It is also true the private sector has a history of reimbursing these types of moving expenses when they hire senior-level personnel.
Neither of these points matter.
Senior government staffers (and junior staffers) have to use some common sense when claiming expenses.
Realty fees, legal fees and "personalized cash payouts" (whatever those entailed) should be viewed as discretionary items. There may be cases where some of these expenses are partially justified, based on geographic distance and quality of life. Moving from two, separate million-dollar homes in Toronto to Ottawa just isn't a good fit.
It is also preposterous to compare the public/government sector to the private sector.
The former's positions are paid for with taxpayer dollars. This means that you and I contributed to the lofty reimbursement package. The private sector, however, operates on a for-profit basis. Hence, these expenses and reimbursements have nothing to do with taxpayers – and, as long as these private sector companies operate in a legal fashion, their choices and decisions don't involve us.
The Liberal moving expenses controversy has some striking similarities to the Senate scandal and Mike Duffy trial. Some rules in Ottawa are open to interpretation, but far too many politicos are willing to feed at the trough. It is always best to resist temptation: as a public servant, and for your own political future.
This is not to excuse the Tories. The previous government shouldn't have modified these rules five years ago, and it was a mistake that it didn't.
So far, the only thing that has been revealed by the Privy Council Office is that Harper's office reportedly spent a grand total of $325,000 on moving expenses. This included $93,000 for one senior staffer, spread over a three-year period.
The big difference? It took the Conservatives nine years – between 2006-2015 – to spend that amount.
Same policy, but a completely different result from these two governments. It certainly makes you think.
Michael Taube, a Troy Media syndicated columnist and Washington Times contributor, was a speechwriter for former prime minister Stephen Harper. He holds a master's degree in comparative politics from the London School of Economics.
---

The views, opinions and positions expressed by columnists and contributors are the author's alone. They do not inherently or expressly reflect the views, opinions and/or positions of our publication.